ROBUST – EFFICIENT – RELIABLE
Planting and sowing
Elco has machines in its range for both manual and mechanical planting.
Planting Machine
Elco planting machines are composed of separate adjustable planting elements. These can be moved freely over the frame so that different row numbers can be planted per bed with one machine. In addition, this design ensures that the machine has a length of only 3.5m.
The elements come in two versions:
Rubber discs:
Because of the large discs, and no continuous shaft, plants from 10 to 80cm can be processed on the same machine without any modifications.
Plant spoons (superprefer):
Because the spoons are in a fixed position, this method ensures that the planting distance is always accurate.
The hydraulic drive makes it easy to adjust the planting distance from 3 to about 20 plants per meter.
Plant hole drilling or punching machine
To make a fast and accurate hole pattern in the subsoil, Elco has developed a planting hole (drilling) machine. The robust basic machine is mechanically driven by the PTO and is therefore very reliable. Planting distance is determined by driving speed and PTO speed.
The drills are hydraulically driven and infinitely variable. These are easy to change with a quick-change system. Drills are available from 5 to 30 cm, larger sizes are available on request.
sand spreader
By spreading a thin layer of sharp sand on top of the seedbed it does not dry out and the growth process is improved. The Elco sandblaster is mechanically driven by the wheels and has a standard working width of 1,1 meter.
The bin has two stirring shafts and a dividing roller so the sand just clumps up and is evenly distributed over the growing bed. By using a row spreading beam the sand is exactly distributed over the rows. The dosage is regulated hydraulically by means of a slide. The capacity of the storage bin is 900 litres as standard and can be adapted to your requirements.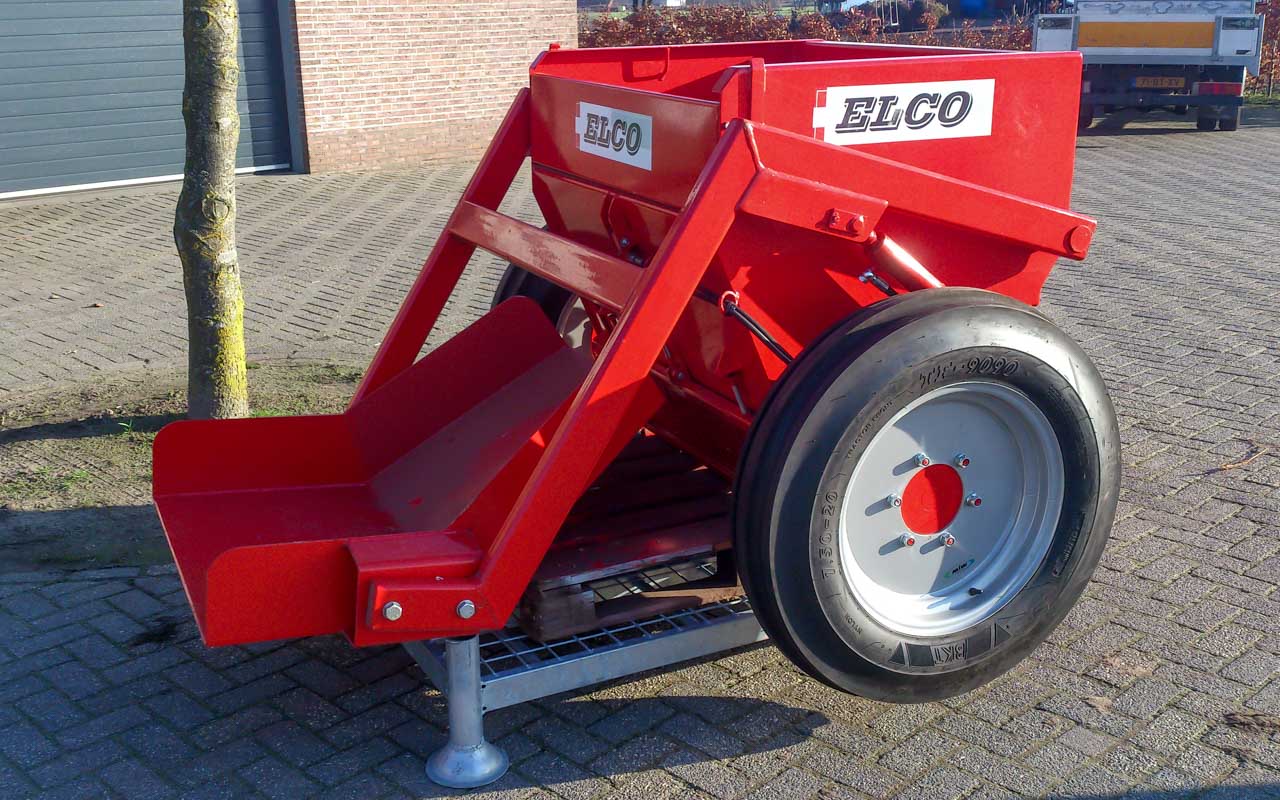 Disc coulters / plant discs
For manual planting, Elco supplies thickened disc coulters (75cm) that press the soil open. These disc coulters can be constructed in combination with, for example, a milling machine or a pressure roller. The disc coulters are driven so that they close the trench and do not close.
Seed washers / defleshing mill
For the removal of hard pips and seeds from berries we supply the seed de-veiner. The speed of the stainless steel impeller is fully adjustable with the frequency controller.
Do you have a question for us?
Fill in the contact form and press the send button!